In this guide, we will discuss the best hiking boots for plantar fasciitis. In addition to providing the different benefits and features of some of the most popular brands in the market, we will also discuss some of the most popular brands.
Best Hiking Boots For Plantar Fasciitis
Besides a backpack and other hiking gear, the most critical and essential equipment for a backpacker is a good pair of hiking boots.
I was recently on a backpacking adventure when I noticed that part of my hiking shoes was about to come off from the damage it had suffered on the rough terrain and from long-distance hikes.
I realized I had a big problem and had worn the wrong footwear for a week's hike. Due to this, I had to look for hiking boots that would work well in rugged and challenging terrain.
In addition, I had experienced symptoms of plantar fasciitis during another hiking adventure. Therefore, after trying different hiking shoes, I prefer the Salomon GTX hiking shoes.
Nevertheless, I needed something I could use in rugged terrains and trails. What I needed were hiking boots. This is more durable and designed for more challenging terrain.
Plantar fasciitis caused me to look for the best hiking boots. It would need to be able to support the weight of my backpack and my weight. I learned a lot from this experience, and I wish I had a decent pair of hiking boots before I set off on this trail.
It is confusing to choose hiking boots from so many reviews on the internet. Therefore, I have shortened the list to give you the best hiking boots with excellent build quality and comfort for plantar fasciitis.
How To Choose The Best Hiking Boots For Plantar Fasciitis
how do you choose the best hiking boots for plantar fasciitis? As for my experience as a backpacker, hiker, and survivalist, it all comes down to comfort and support. The first thing that you'll need to look for is a comfortable insole.
The insole should not be too soft as this will not provide any comfort for long-distance hikes. In addition, a very soft insole cushion will tend to cause more discomfort rather than support.
Specifically, soft insoles are not strong enough to properly support your feet. It would be best to choose a firm but comfortable insole to support your heel and ankle.
When choosing hiking boots to prevent plantar fasciitis, what should you consider? When it comes to backpacking, hiking, and survival, comfort and support are vital. So choosing a comfortable insole is the first step.
It is essential not to use soft insoles when hiking long distances since they are not comfortable. An insole cushion that is too soft tends to cause more discomfort rather than support.
In particular, soft insoles don't provide adequate foot support. Instead, choose an insole that is firm but comfortable to support your heel and ankle.
Firm Insole VS Soft Insole
Studies have shown that a firm insole not only relieves pain but also prevents future foot problems. Therefore, it is imperative to select the right boot to avoid exacerbating a previous injury, and it is essential to choose the correct hiking boot.
Firm insoles, on the other hand, can prevent the leading cause of foot pain. Compare, for example, your hiking shoes' insoles with a mattress. For a short period, you may feel very comfortable when the mattress is too soft.
You'll soon realize, however, that too soft of a mattress can be uncomfortable. Firm mattresses, on the other hand, support your spine and your back as a whole. As a result, the discomfort will diminish over time.
Insoles in hiking boots and shoes work in the same way. It will do more harm than good if it's too soft. Almost all footwear manufacturers design the insoles of shoes to provide comfort and support.
Many people have problems with their feet, and their insoles are designed to address these problems. Therefore, it is crucial to ensure that the boot fits properly when choosing the perfect hiking boot. 
Firm insoles will provide long-term comfort when they fit correctly. The best thing to do is to consult your podiatrist for a more comprehensive diagnosis. 
If you are experiencing prolonged pain and discomfort, you should talk to your doctor. Below is my recommendation for the best hiking boots for plantar fasciitis. You can choose from these brands to get superior support and comfort.
Salomon Men's Quest 4D 3 GTX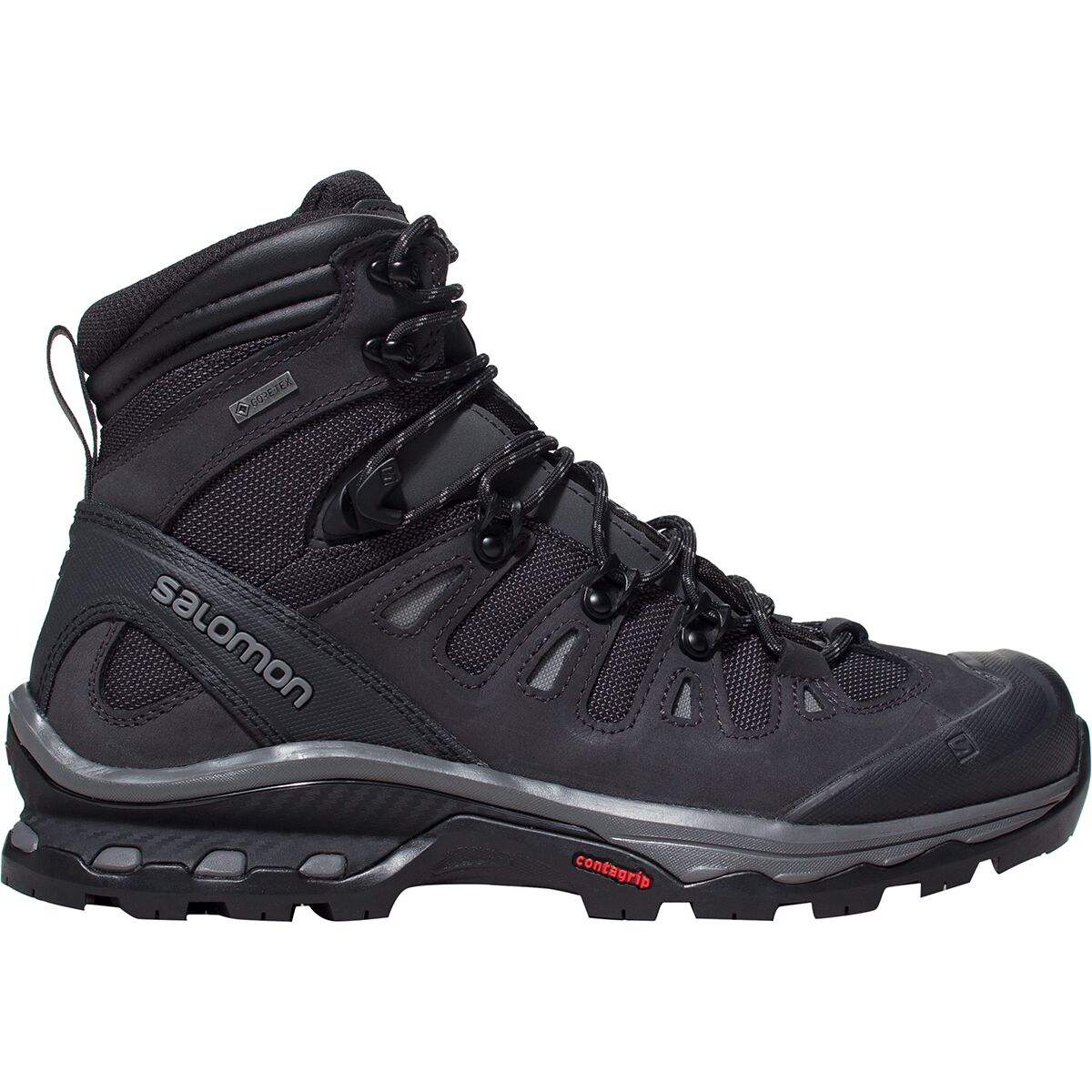 The Salomon Quest 4D 3 GTX is equipped with Nubuck leather for durability. The toe cap provides additional protection and grip while hiking on rocky surfaces and uneven terrain.
The GORE-TEX® fabric is essential in keeping the Salomon Quest 4D waterproof and breathable.
One of the most important criteria that I have for the ideal hiking boot is comfortability even with prolonged use. The Salomon Quest 4D has superior comfort and cushioning with the Ortholite® insole technology.
In fact, the SensiFit™ technology cradles the foot to provide exceptional comfort and perfect fit. This is an excellent choice if you have symptoms of plantar fasciitis.
The 4D Advanced Chassis™ also provides stability and therefore reduces the stress and fatigue especially in long-distance hikes.
Adidas Terrex Swift R2 Mid GTX Men's Hiking Boot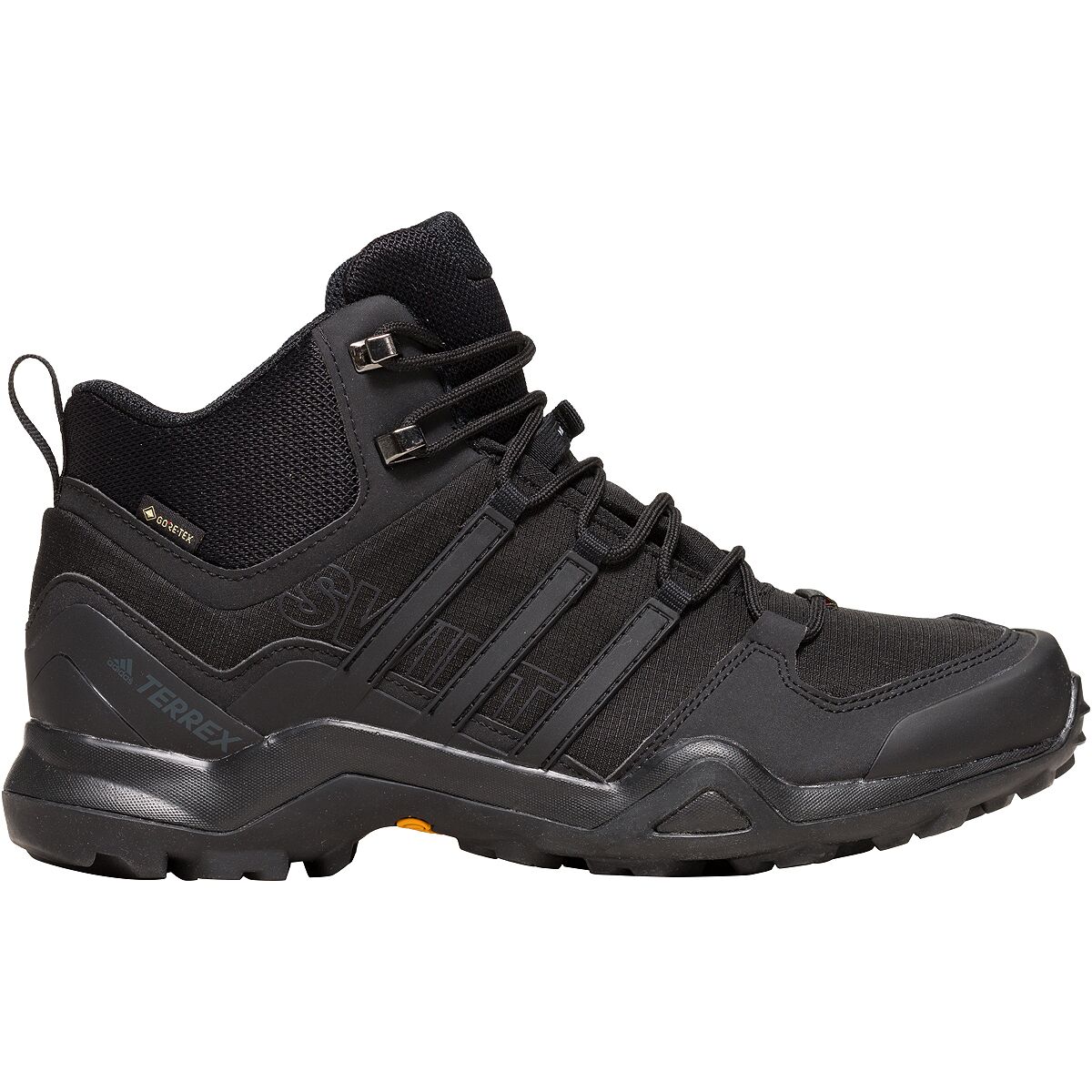 The Adidas Terrex Swift R2 Mid GTX Men's Hiking Boot offers GORE-TEX® breathable and waterproof fabric to keep your feet comfortable and dry.
This hiking boot is lightweight to help reduce stress and fatigue when hiking for hours.
The molded TPU (Thermoplastic polyurethane) toe cap provides protection for your toes and not only does it provide a strong grip but also provides superb stability.
The outsole is constructed with Continental™ rubber technology that provides an excellent grip on any surface.
KEEN Targhee III Mid Leather Waterproof Men's Hiking Boot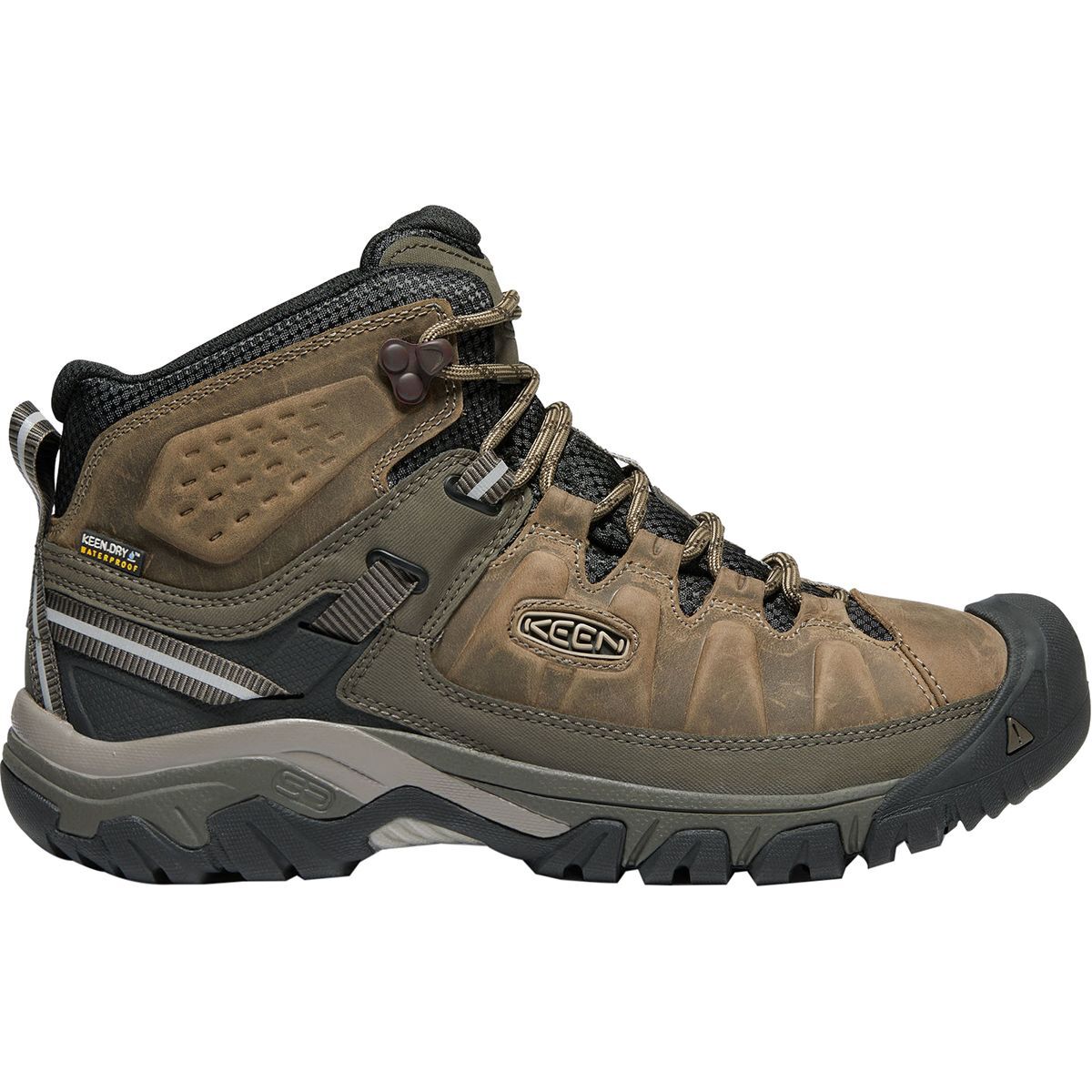 The overall design of the KEEN Targhee III Mid WP is made from premium leather and boasts a KEEN.DRY waterproof membrane as well as a breathable material to keep you dry and comfortable throughout your hiking adventure.
In fact, the ESS internal shank provides midfoot support and also offers lightweight support to reduce fatigue for long-distance hikes.
One of the best features of the Targhee III Mid WP is that it is equipped with Cleansport NXT™ technology for natural odor control.
The injected TPU heel-capture design provides exceptional stability on most terrains.
Since prolonged walking or standing can cause inflammation of the plantar fascia, you'll also need a comfortable insole. 

The Targhee III Mid is also equipped with 4mm multi-directional lugs that provide superb traction and grip.
Hoka One One Sky Kaha Men's Hiking Boot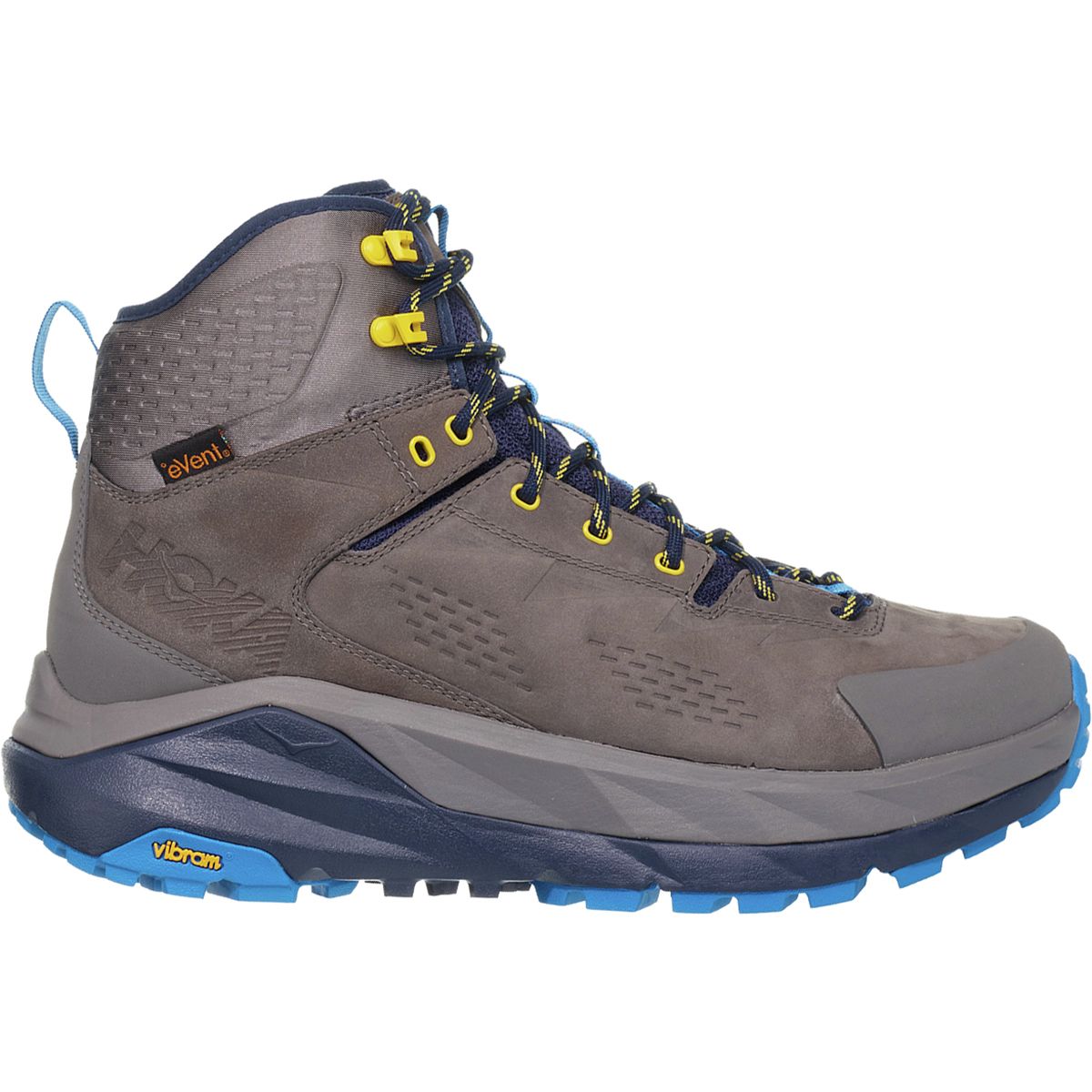 The Hoka Sky Kaha features a leather construction that provides impressive durability and rugged support. The GORE-TEX® fabric keeps your feet dry and comfortable in wet conditions.
The Vibram® Megagrip outsole provides great traction as well as a supreme grip.
The Sky Kaha features exceptional comfort using the EVA layering and the rubberized foam allows effective cushioning as well as provides a supportive base.
The ankle support is unmatched and the overall weight of the shoes is perfectly light.
Merrell Men's Moab 2 Mid GORE-TEX Hiking Boots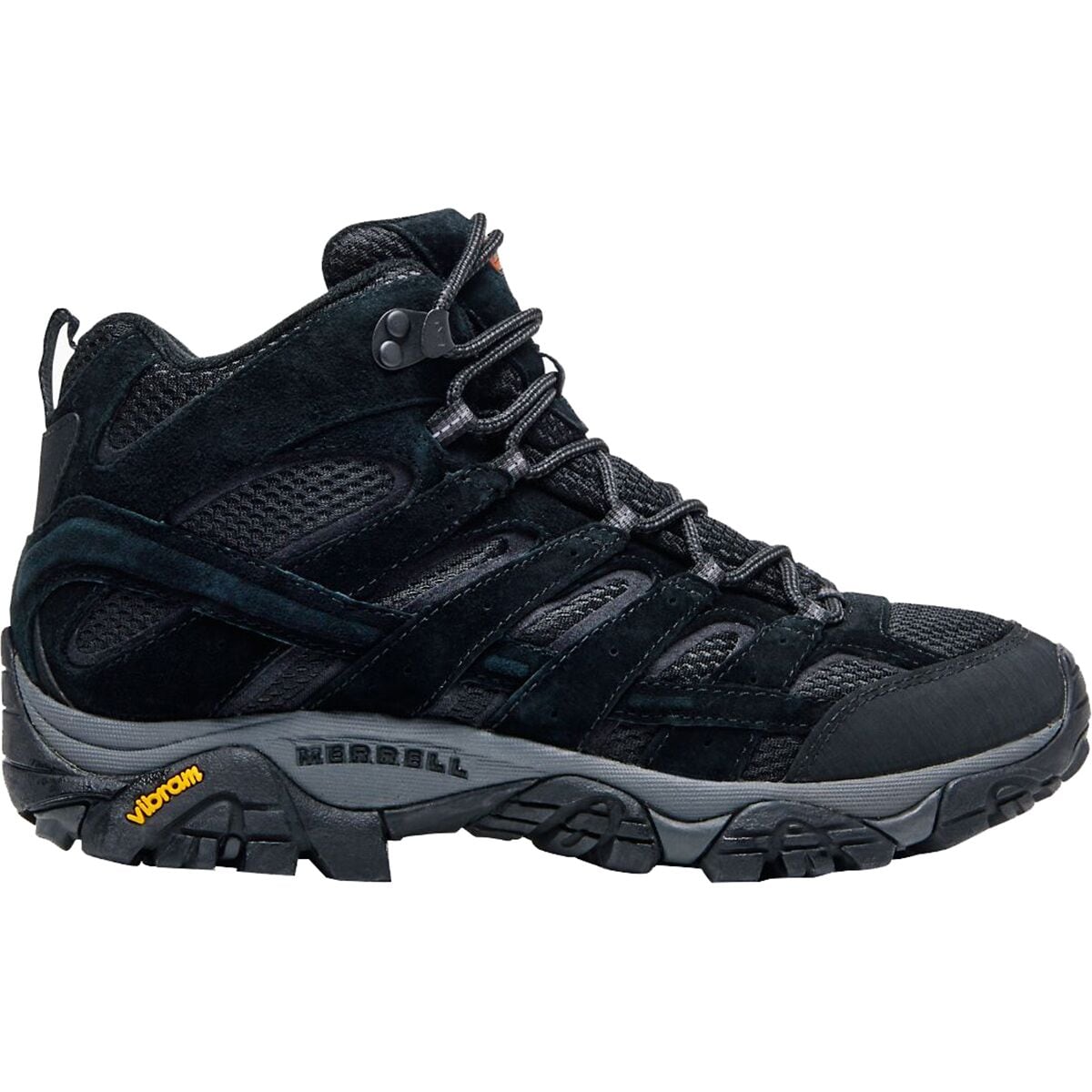 Merrell Men's Moab 2 Mid GTX is remarkable for its Merrell M Select™ FIT.ECO+ blended EVA contoured footbed as well as an added zonal arch, molded nylon arch shank, and heel support.
The overall material used in the construction of the Moab 2 Mid GTX consists of synthetic leather and upper mesh fabric. 
The GORE-TEX® membrane not only keeps your feet dry and comfortable but also allows excellent breathability.
The Moab 2 Mid GTX features a Vibram® TC5+ sole for exceptional grip and traction on challenging terrain as well as wet surfaces.
Arc'Teryx Men's Acrux TR GTX Hiking Boot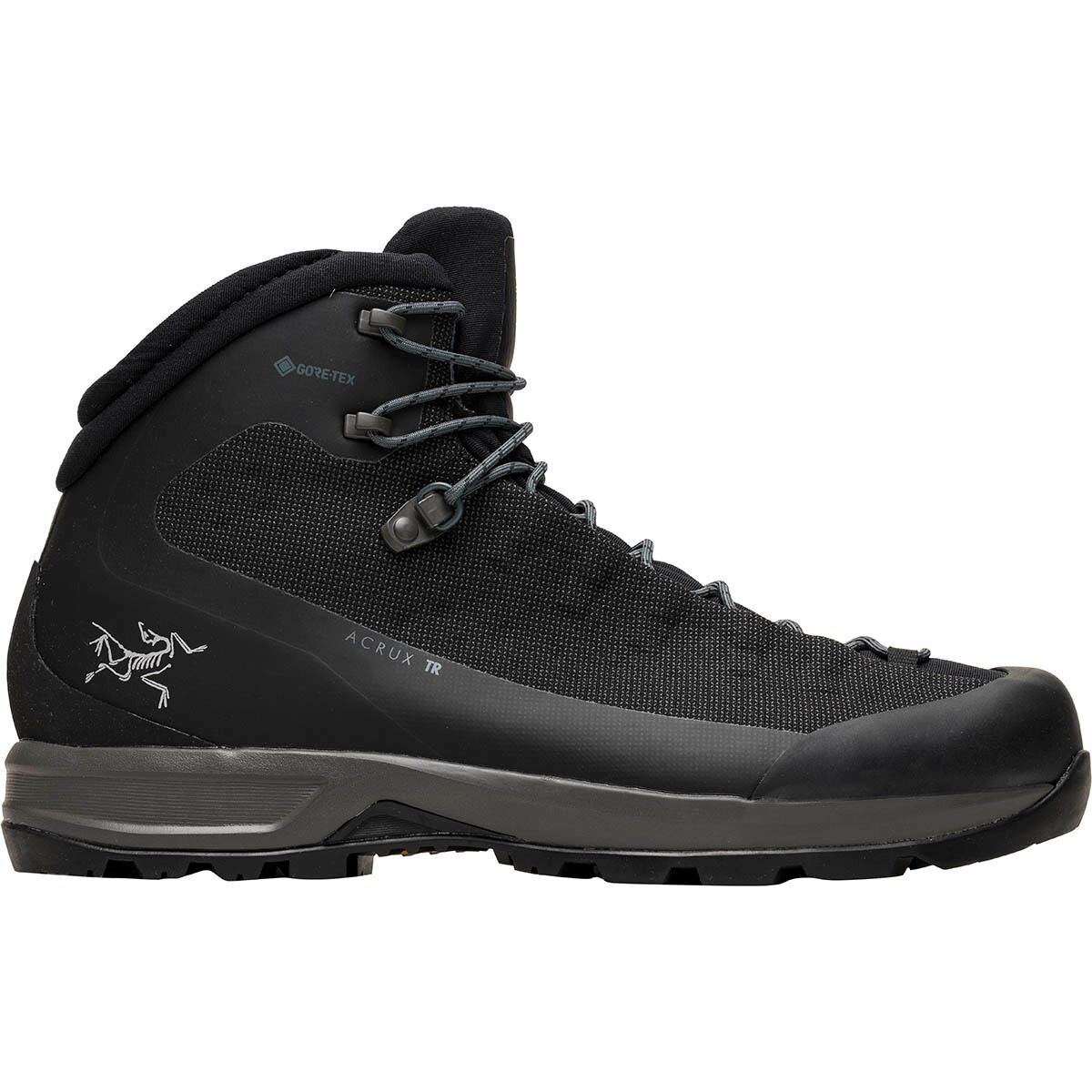 The Arc'Teryx Acrux TR GTX hiking boot is perfect for an all-terrain adventure. The SuperFabric® micro-plated technology makes the Acrux TR GTX very flexible making your outdoor adventure very comfortable. 
GORE-TEX® lining protects your feet from getting wet and at the same time allows for maximum breathability.
Additionally, the Vibram® Megagrip outsole contributes to the outstanding traction on dry terrain and exceptional grip on wet surfaces.
The midfoot and forefoot are constructed with a TPU chassis that allows for perfect stability while hiking.
Columbia Newton Ridge Plus II Waterproof Men's Hiking Boot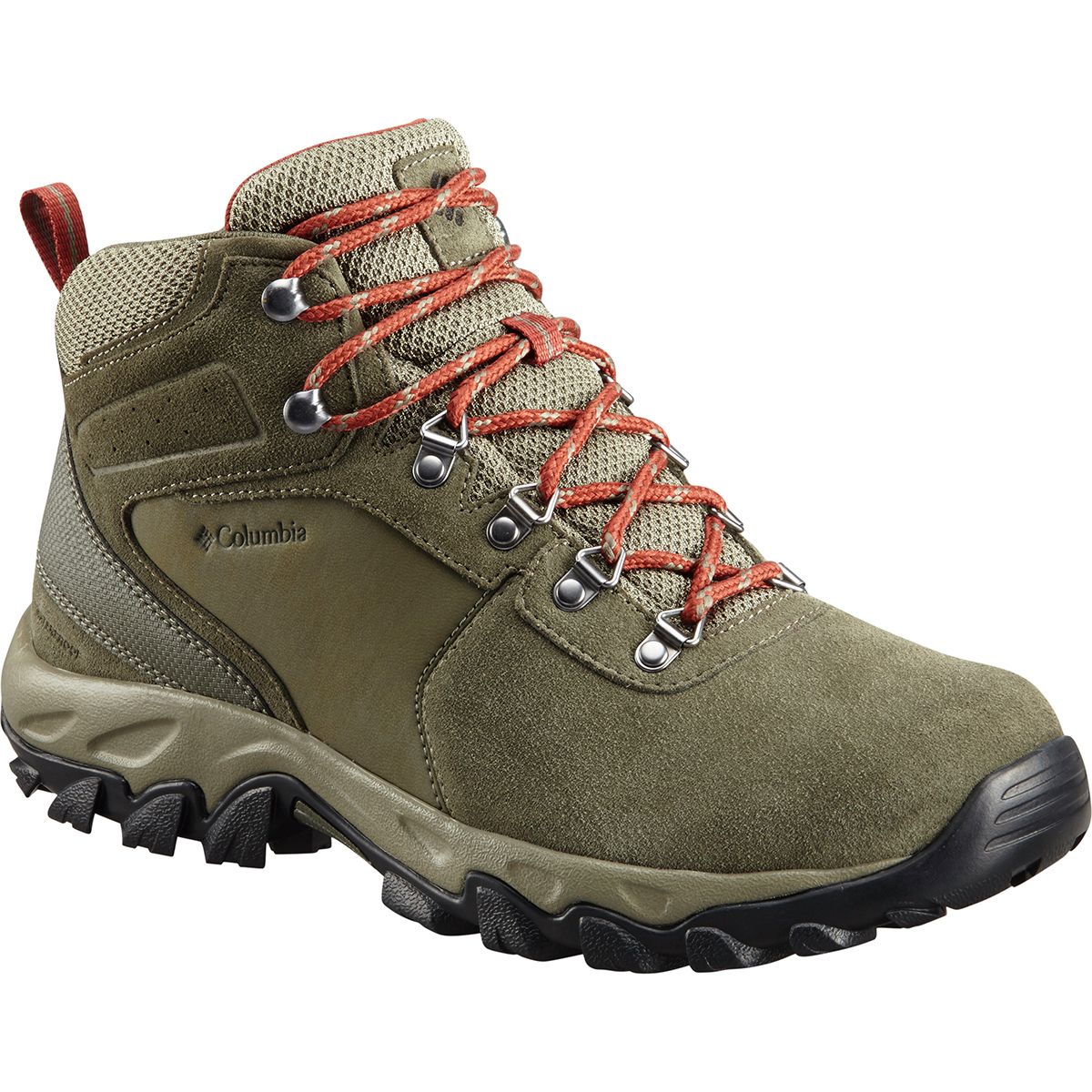 Columbia Newton Ridge Plus II Waterproof hiking boot is built with PU–coated suede leather for special comfort as well as tough protection.
The waterproof seam-sealed design will keep your feet not only dry but also comfortable. The metal hardware upper construction provides added protection.
It is also equipped with Omni-Grip™ rubber outsole which has an impressive tread design for perfect grip and traction in most terrains.
The midsole is made from Techlite™ technology for lightweight performance and comfort.
Mammut Kento High GTX Men's Hiking Boot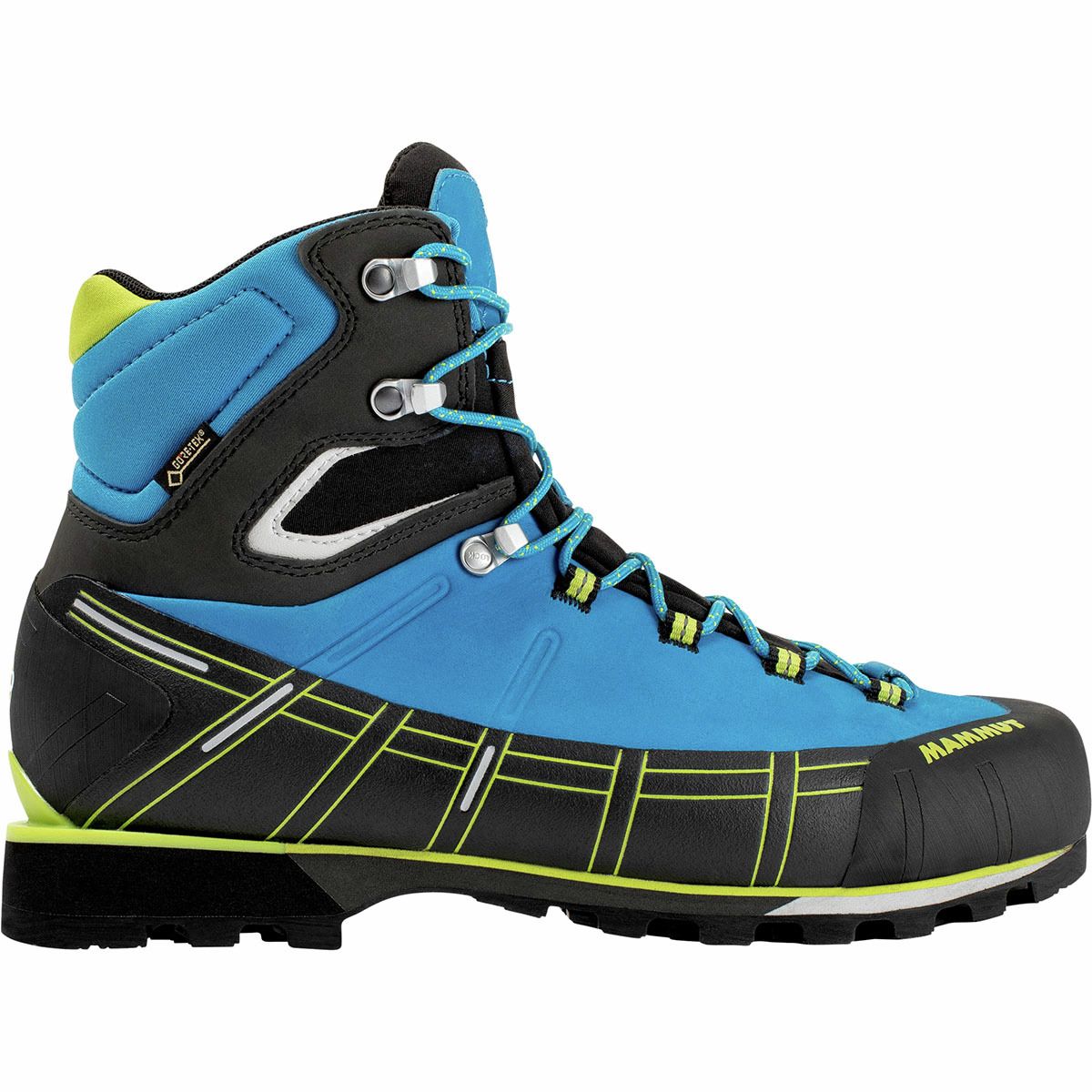 Mammut Kento High GTX® men's hiking boot features a lightweight Michelin® Alpine Lite 3970 sole perfect for hiking on snow and ice.
The Mammut Kento High is also made with protective nubuck leather blended with GORE-TEX® Performance Comfort Footwear Membrane to keep water out and keep your feet dry and comfortable.
The Kento High GTX® has a pre-shaped tongue construction and a hybrid shell for added comfort and excellent adaptability. The flexibility and versatility provide superb ankle protection for challenging terrains.
The 2 Zone lacing system allows for natural rolling movement.
Vasque Saga LTR GTX Men's Hiking Boot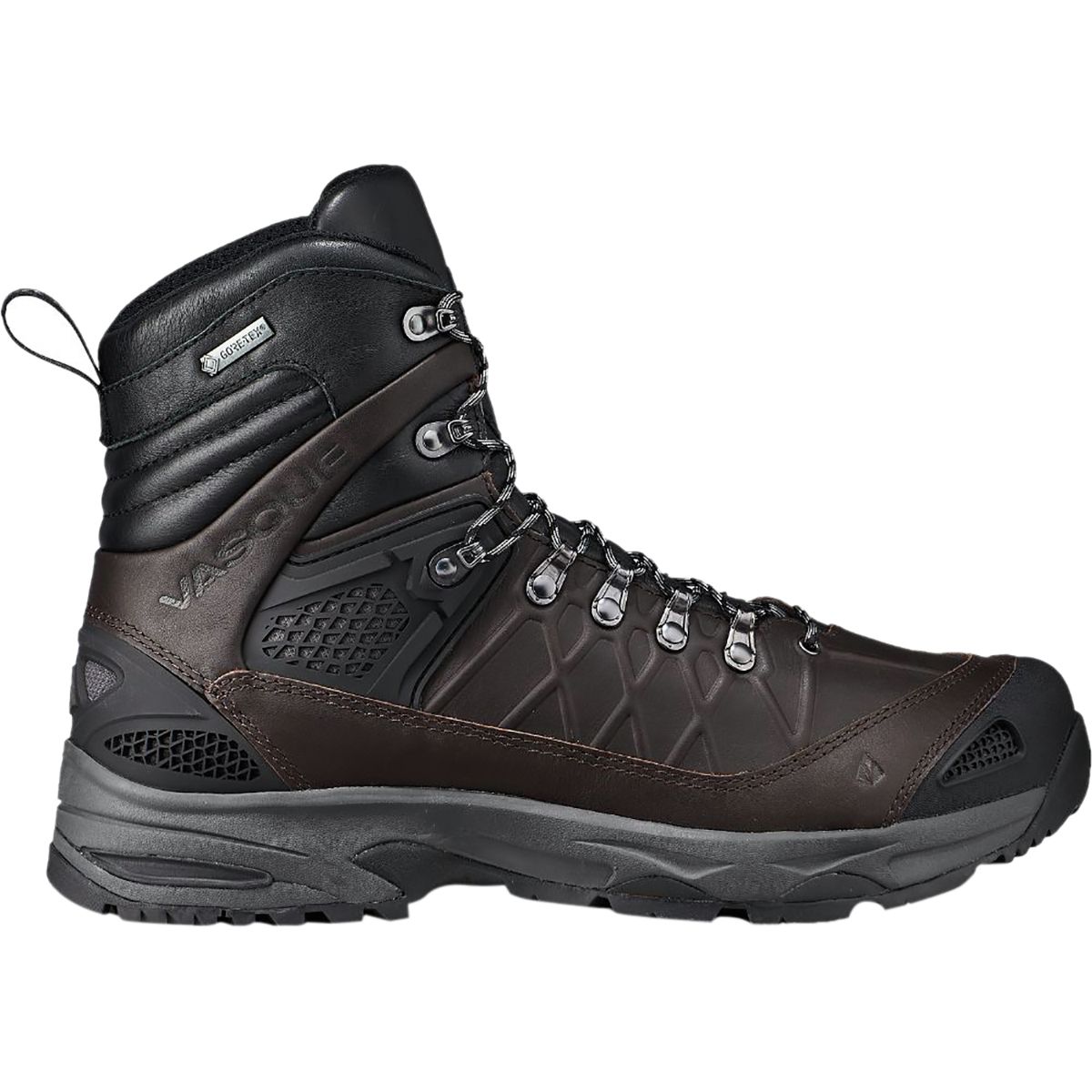 The Saga LTR GTX comes with Nappa leather construction for durability. It also features a GORE-TEX® with Extended Comfort Technology specifically designed to provide not only lasting comfort for long-distance hikes, but also superior waterproofing and breathability.
The outsole is built and designed with Vibram® Megagrip technology for superb traction as well as magnificent grip and can be used in most terrains. The TPU shank provides extra support, protection, and comfort.
Lowa Renegade GTX Mid Hiking Boots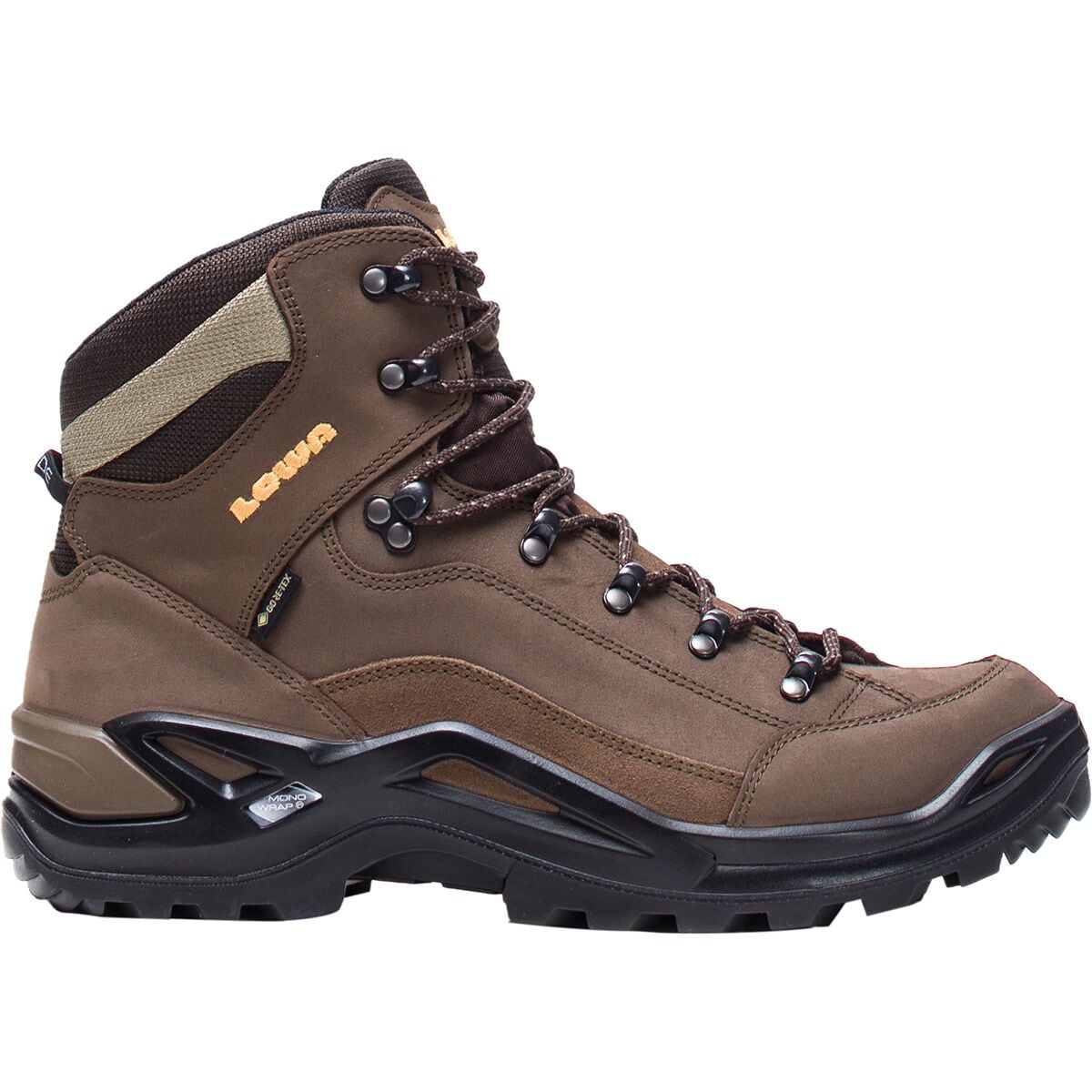 The Lowa Renegade features outstanding performance when it comes to traction and grip. The outsole is designed and constructed with VIBRAM® Evo that provides excellent versatility and comfort in all terrains.
The midsole is equipped with Double Injection DuraPU® that allows maximum shock absorption on rocky terrain and uneven surfaces.
The GORE-TEX® lining keeps your feet dry on wet conditions.
The Renegade features impressive ankle support and unparalleled comfort.
Comfort and fit are paramount when it comes to choosing the proper boots for hiking. Therefore, I have narrowed down some of the most comfortable hiking boots you can wear on your next outdoor adventure.
Leading brands make superior hiking boots for outdoor enthusiasts to enjoy and explore nature with less fatigue and stress.
I have selected the top backpacking boots for men based on comfortability, waterproofing, weight, durability, flexibility, and stability.
Hiking boots provide better protection than hiking shoes, and hiking boots have better ankle support and shock absorption.
The only downside is that hiking boots are usually quite expensive. Among the reasons are the rigid construction and additional protection and comfort that it provides to the user.